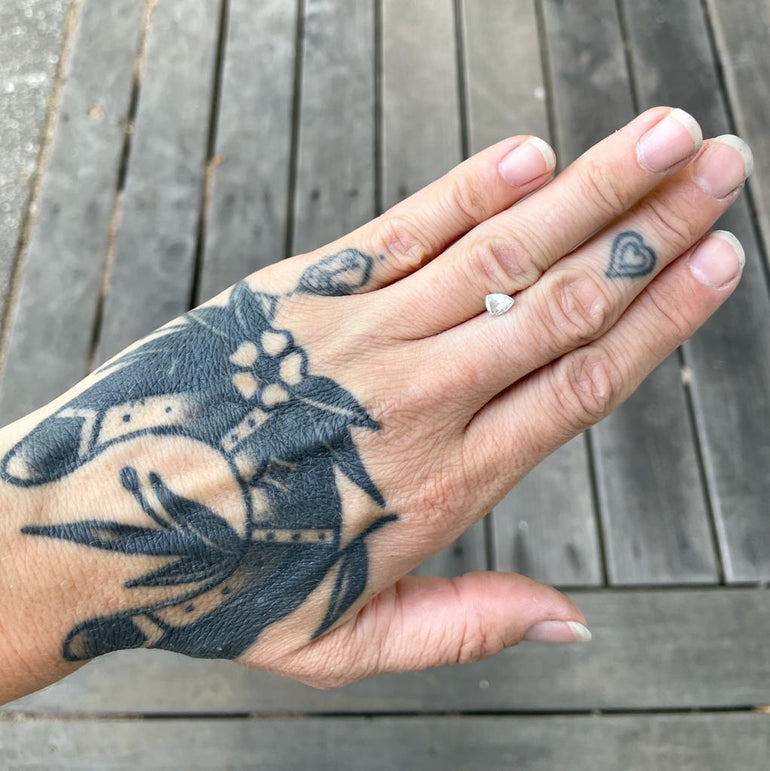 0.64ct Shield-Trillion Opalescent Grey Ghosty Diamond
0.64ct Shield-Trillion Opalescent Grey Ghosty Diamond
0.64ct Shield-Trillion Opalescent Grey Ghosty Diamond
FAQ
I'm interested in a custom engagement ring. Where do I start?
We specialize in customizing our jewelry so each piece is unique. Sarah sources and cuts a collection of beautiful stones, which can be combined with our ring settings to create a one of a kind piece. Start by browsing our loose stone library. Once you find something you like, you can purchase the stone and setting and we will reach out to begin the design process. We'll walk you through it!
What are the best stones for engagement rings?
All stones are measured on a scale of hardness called the Mohs scale. Diamonds are a 10 - the hardest substance on earth, and a natural choice for engagement rings. Sapphires have a hardness of 9, and can easily stand up to a lifetime of wear. Sapphires also come in a rainbow of gorgeous colors and we source many unique cuts, so they are a favorite stone in our collection. 
Other stones like ruby and spinel can make great engagement stones too. Softer stones like emerald, aquamarine and opal are not recommended as they can chip or lose polish over a lifetime of wear.
Do I get to preview my ring before it's made?
Yes! Our goldsmiths will reach out to confirm that the stone and setting you choose will work together, and assemble a 3D rendering of your ring for approval. You can see the ring from all angles in the metal color of your choosing. This is a great way to see how ratios and colors work together.
I want a totally custom design. Can you help?
We are not offering fully custom designs at this time. Please join our mailing list to find out when we will be offering custom designs again.
.
.
Shipping
How long until I receive my order?
For pieces in our permanent collection (that's the "Shop" section above), we typically make pieces to order and ship within 1-2 weeks. If you are in a hurry, please contact us and we will do our best to accommodate.
For "Design Your Own" engagement rings, expect a 4-6 week total process. Keep in mind that we will need your approval during the process to move forward, so delivery times are dependent on timely feedback from you!
If you are looking for something right away, browse our Ready to Ship section. These pieces typically ship in 1-3 business days.

If you are looking for something right away, browse our Ready to Ship section. These pieces typically ship in 1-3 business days.
How long will it take to receive?
For domestic US clients, expect 2-3 days in transit to most addresses. 
For international clients, we ship FedEx International Priority. While travel time is typically 2-4 business days, note that customs may delay packages by a few days or in some cases, weeks. While we work with a trusted broker to ship packages, we cannot control customs delays or import duties. You will be responsible for paying any taxes or duties upon import.
How will you ship my order?
We ship via USPS, UPS or FedEx. You will be sent a tracking number via email when your order ships.
Will I be charged sales tax?
We are required to collect sales tax for purchases shipping within California.
.
.